Setting Up WordPress Blog – Ultimate Guide
20 Reasons Why Blogging is Important for SEO to Rank Website:
Indexing and Ranking – Google needs unique consistent, niche-relevant content to determine your domain positioning. Search Engines indexing is a process by which they crawl and index websites, documents, or other online content. The indexing process is done to create a database of information for use in search engines. This will result in your website/blog being visible on search engines (SERPs). Google SERP stands for (Search Engine Results Page). This refers to the pages of results that are returned when someone does searching for something on search engines such as Google, Bing, Yahoo, Yandex, or others."
SEO – You can manage your SEO better with a WordPress site without writing code. By adding in plugins such as all-in-one-SEO or Yoast, you will get used to optimizing your site using keywords, metadata, etc.
Keywords – Target More Keywords to Rank for your Blog and Service Pages.
Backlinks – Blogging Helps to Attract both External and Internal Links.
Blogs Secure Your Global Positioning – Blogs will promote you as an industry leader.
Brand Awareness – Blogs can create brand awareness because the more post you make the quicker people will recognize you as an industry leader.
New Opportunities – Blogs help to create new opportunities.
Social Media Exposure – Blogs are easy at creating social media exposure.
Comments – Blogs allow readers to leave comments.
Hosting Costs – Blogs are cheaper to host than normal (static) websites
Reduces Bounce Rate – Increase Dwell Time and Decrease Bounce Rate.
Ranking Your Services – Helps in Ranking Website Services and Product keywords.
Pillar Cluster – Enables you to use the Pillar Cluster technique (listing your posts into categories)
Google EAT – YMYL Parameters – Make Your Website Stand on Google's EAT Parameters. E-A-T means Expertise, Authoritativeness, and Trustworthiness. E-A-T is part of Google's algorithm and baked into Google's Search Quality Evaluator Guidelines.
Link Building – A Blog Gives More Reasons for other Sites to Link to your Site.
Brand Awareness – Helps to Attract More People and Connect with your Audience.
SEO Link Wheel – Having multiple blogs linking together and pointing to your default site drives targeted traffic.
PPC Advertising – Providing you have done everything right within a short space of time your blog should be visible on the first page of search engines. Once on the first page of Google, you will not need to pay for PPC advertising which alone will save you tonnes of money.
Content Contributions – Having a Blog allows contributions from other content writers to make guest posts.
Building An Email List – Having a Blog encourages readers to subscribe and gives you the opportunity to build an email list where you can then send newsletters and offers to people that want to hear from you.
Do you need help building a blog?
Have you already got a WordPress blog and need help configuring it, or are you considering having a blog or two and need help building it?
Starting either a blog or a website can be very overwhelming at first, especially if you have never done it before. Even if you try to do it yourself you still have to learn SEO and marketing. Blogs and Websites are not set and forgotten, you have to maintain them regularly. WordPress plugins need to be updated for bug fixes, it all takes time and dedication.
Choosing a blog or a website?
Although it sounds the same there is a vast difference between blogs and websites. A website can contain a blog, (subdomain or subdirectory) a blog on the other hand doesn't usually contain a website. The only way you can link your WordPress Blog to contain your website is to set up a custom link (see diagram below I have linked the SKY NEWS website to our site). A blog and a website are not the same as they have two different functions, although they may look similar.
What is The Difference Between Blogs and Websites?
The difference between a blog and other types of websites is that blogs are updated on a regular basis with new content, which is displayed in reverse chronological order (new blog posts first). You can also add more functions and capabilities without writing code by installing plugins that perform different tasks. You have more flexibility with a blog rather than a website.
Typical websites are static in nature where content is organized in pages, and they are not updated frequently. Whereas a blog is more flexible where you can list your articles under categories and are usually updated more frequently. Some bloggers publish multiple new articles a day.
Blogs can be part of a larger website. Often businesses have a blog section where they regularly create content to inform and educate their customers. However one should not confuse a webpage on a website with a blog because it has minimal function compared to a WordPress blog. Both the webpage and the blog may have updated content but a WordPress Blog has more functionality.
You can use WordPress to create both, a website and a blog, that's why a lot of business owners use WordPress to build their small business websites.
The prospect of building a website or a blog can be a terrifying thought especially when you're not techy. Don't worry, you're not alone, I was like you once. This guide will help you decide if you wish to have a go yourself or reach out to us. We have compiled a step-by-step guide on how to create a WordPress website without learning how to code.
STEP-BY-STEP GUIDE
This guide is useful for users of all ages and skill levels. However, if you need help, then you can contact our expert team to help you set up your website for free. We will send you a to-do list of things you need to perform.
Here is an overview from start to finish of all the steps we'll walk you through in this guide.
Choose A Domain Name – Decide on an exact match searchable keyword or phrase domain name. ( You could have a location+keyword or brand name + product or service). We can advise you what Domain Names are available and suitable for you to register or we can guide you on the Domain Names we have on our books that would help with your SEO.
Choose If You Want To Self-Manage or have a Managed Site – We are IONOS.co.uk Partners and you can either try to build the blog yourself or we can do it for you.
Install WordPress – We will show you how to install WordPress.
Install Templates – We will show you how to install a template and customize your site's design.
Create Pages – We will show you how to create pages in WordPress.
Plugins – We will show you how to customize WordPress with addons and extensions (plugins).
Support – We will give you free support if you drop us a line.
Developing your WordPress site yourself.
You do not need to be a web developer to create a custom blog/ website. Our guide is written for non-techy users, and we will show you a no-code solution to creating a blog/website without writing code.
Even if you choose to do it yourself IONOS.co.uk have web builders if you want to build static sites or WordPress-managed sites. (Not only will you get support from us you will also get support from them free of charge).
With that said, let's look at all the things you need to build a website.
What do I need to build a blog/website?
You'll need the following 6 things to start your WordPress site.
A domain name – this is fundamentally the most important part of building your brand. This is the name of your website such as google.com. The shorter the domain name the better but if you are going to be building a niche rather than a brand, we recommend (location+keyword or keyword+location domain names).
WordPress hosting – this is where your website files are stored (Register a package on a site that gives you special offers. (Business WordPress on IONOS.co.uk is £1.20 per month for the first year to include a free domain name, providing it is available).
Search Engine Optimization – Learn SEO
Marketing – Learn how to do marketing and advertising.
Networking – Build a network of followers and join social media pages and groups to promote your blog.
Build An SEO Link Wheel and link your blogs and website together.
How much does a WordPress website cost?
Depending if you plan to develop it yourself or hire a WordPress expert will determine the initial cost. We can build a WordPress site, manage it and create two blog posts per month for £25.00 pm based on a basic package to include professional emails, marketing, and advertising on our network and websites. We will send you a bespoke quote tailored to your needs on request.
A typical personal WordPress website can cost as low as £115 if you do it yourself. The cost of a business website can range from anywhere between £300 per year to as high as £30,000 per year if designed and developed by a professional.
We recommend all our readers start small and then add more features to your website as your business and budget grows. This way you will save money and minimize potential losses while avoiding overspending.
Which is the best website builder platform?
Although WordPress is free if you go to WordPress.org you may want to have a managed site with backups and get the support should things go wrong (yes occasionally things can go wrong especially if you do not do WordPress updates or plugin updates. We recommend using a managed-hosting package via an accredited hosting company.
WordPress is the most popular website platform in the world. It powers nearly 43% of all websites on the internet.
WordPress is free, open source, and comes with thousands of pre-built website designs and extensions. It is extremely flexible and works with almost every third-party tool and service available to website owners. The only thing I will add choosing the free option does not give you a Domain Name and does not give you the support, should you need it. The open-source version is also very basic compared to a hosted version.
Step 1. WordPress Setup
One of the most common mistakes that beginners make is choosing the wrong website platform. If you choose the self-managed as opposed to managed hosting option you have the basic tools. We recommend managed hosting and as little as £1.20 per month for the first year it is cheaper than a cup of coffee, it then increases after a year to £9.60 plus the renewal of your domain name which is a one-time fee for the year of around £15.00 depending on which domain extension you are using. Each domain extension has a different renewal price.
Regardless of your choice in hosting packages, WordPress comes with thousands of designs and addons which allow you to create any kind of website you can think of.
If WordPress is free, then where is the cost coming from?
WordPress is free because you'll have to arrange your own custom domain name and web hosting provider, which costs money.
A Domain Name is your website's address on the internet. If your audience knows your domain name they will type it into their browsers, for those that don't you will have to rely on exact match searchable keyword and phrase domains and if you do little SEO you will have to rely heavily on marketing and advertising to get your blog on the first pages of search engines. This is a costly endeavor so we recommend you start learning about SEO or leave it for the experts to handle.
If your audience is actively searching for you and knows your domain name they will type in their browsers to reach your site (For example, ukwebsitedesigners.co.uk, ukdomainbrokers.com).
With IONOS.co.uk you get a free domain name for the first year provided it is available to register. A domain name therefore for renewals typically costs around £14.99/year depending on the registrar and domain extension.
However, for more brandable names or names that have been bought by domain investors, the price of domains can be much higher. A one-word dot com domain name will usually command very high prices. List of most expensive domain names – Wikipedia If a domain investor generates traffic for the said domain name then the moment it is registered and developed it will increase in value. If the domain investor goes one step further and designs a logo, markets, and advertises the domain then the asking price will be in line with what you could potentially save in PPC advertising especially if the domain seller gets your domain on the first page of search engines.
If you need help choosing a domain name for your website, we are on hand to advise you. Alternatively, you can browse our list on our site.
If you choose to develop the WordPress site yourself and register for the WordPress package you will need to first register your details, such as name, address, telephone number, login username, password, and also your payment details.
You may be prompted to buy extra options such as Ranking Coach, JetPack, etc, we do not recommend doing this and recommend you opt out. You can do this later if you change your mind.
Next, you will add your payment information to finish the purchase.
After completing your purchase, you'll receive an email with details on how to log in to your web hosting control panel (cPanel).
This is your hosting account dashboard where you manage everything like getting support, setting up emails, etc. Most importantly, this is where you'll install WordPress.
Step 2. Install WordPress
When you signup with IONOS using our link, they will automatically install WordPress for you. They launched this one-click WordPress installer to make it easier for non-techy users to create their blogs.
What this means is you simply need to log in to your IONOS account, and then click the Login to WordPress button to get started. This setup process has really reduced the learning curve needed to make a blog. If you have a domain name associated with the WordPress package and have published your site you do not need to login into IONOS every time, all you need to do, for example, purposes only type /wp-admin at the end of your URL in the web browser. (https://www.yourdomainname.com/wp-admin).
Step 3. Select Your Theme
The visual appearance of your WordPress site is controlled by a WordPress theme. WordPress themes are professionally designed templates that you can install on your website to change its appearance. There are thousands of free and paid WordPress themes that you can install on your site. You can change your theme from the WordPress admin dashboard.
Visit the section on the left-hand side and look for Appearance » Themes page and then click on the 'Add New' button.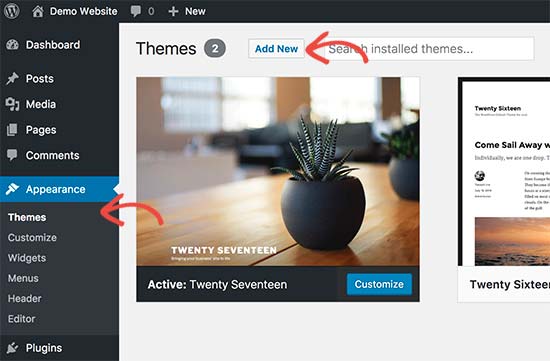 On the next screen, you will be able to search for 9,600 free WordPress themes that are available in the official WordPress.org themes directory. You can sort them by popularity, latest, featured, as well as other feature filters (i.e industry, layout, etc).
For the sake of this guide, we are using the 'Hemingway' theme on our site.
How to Install a Theme in WordPress
If you know the name of the free theme you want to install, then you can look for it by entering its name in the search field.
WordPress will give you a preview of themes in search results. Once you are happy with the theme you will need to install the theme and then click on the Install button. The beauty of WordPress is after you have installed the theme and then change your mind you can always go back to appearances and chose another theme.
Once you have installed your theme, you can customize it by clicking on the Customize link under the Appearance menu. This will launch the theme customizer where you will be able to change your theme settings with a live preview of your website. If you're using one of the newer full-site editing themes, then you will see a different version of the site customizer.
The default WordPress customizer and full site editing don't offer a true drag & drop customization experience.
You can even create a fully custom WordPress theme without any code.
Remember, you don't need to finalize all theme settings right away. You will be able to customize it much better once you have some content on your website.
Step 4. Add Content to Your Website
WordPress comes with two default content types called posts and pages. Posts are part of the blogging functionality and appear in reverse-chronological order (newer items are displayed first).
Hiring A Content Writer.
If you are a proficient content writer you will have a dab hand at publishing content yourself, alternatively, you can hire a blogger to write content for you.
If you get stuck and need content written we are here on hand and we will give you backlinks as a double whammy. Just drop us a line if you need some articles written or want to proofread your content.
On the other hand, pages are meant to be static "one-offs", they are usually one piece of information that rarely gets updated such as your about page, contact page, privacy policy, custom landing page, etc.
By default, WordPress shows your blog posts on the front page of your website. You can change that, and make WordPress show any static page as the homepage of your website (we'll show you how to do that later in this guide).
You can create a separate page for your blog or news section to show your recent posts. Alternatively, you can create a website without any blog section at all.
You already know what your blog is going to be about so now you have to start writing.
To set up the navigation menu you'll need to start adding a few pages to your WordPress site.
Pages To Include:
Homepage.
About Us Page.
Shop (if you have one)
Forum (if You Have one)
Directory (if you have one)
Contact Us Page
Legal Pages (Dropdown Menu)
Terms & Conditions
Privacy Policy
FAQ
Shipping
Disclaimer
Members Login
Now you have set up a WordPress theme you need to customize it with your images and text. There are plenty of royalty-free images on pixaby.com or pexels.com
The next thing you will have to do after you created your pages is to create your first post. WordPress by default provides you with your first post "HELLO WORLD". You can delete this and create your new post. Do also build a category menu so that you build your posts to fit the categories. Your categories menu could be placed in the sidebar of your site and for mobile view also in the footer.
Remember to also remove powered by WordPress and the Theme Name in the footer of your site, this way it makes your site look more professional.
Don't worry if you don't have enough content for these pages, you could put a short sentence to let your audience know your site is under construction. You can always edit and update later. As long as you have not uploaded your site to search engines you are not going to have a whole lot of traffic other than bots so I would not worry too much about writing your first post. You could just say this post is under construction and do the same for your pages and tackle them one by one in your own time at a steady pace.
Head over to Pages » Add New page in the WordPress admin area. This will bring you to the page editor screen, which will look similar to this, depending on your theme.
First, you need to provide a title for your page, this title needs to be unique with keywords it cannot be more than 160 characters including spaces.
The home page title (Home) by default, should be changed to match your domain name. Search engines do not like the word (Home) for homepages and this is a little tip to help you get ranked for the keywords in your domain name.
After that, you can add content in the text editor below. You can add text, links, images, PDFs, embed videos, audio, etc.
Once you have added content to your page, you can click on the publish button to make it live on your website. Even when it is live your website will float in cyberspace and you have to do a number of things for it to be indexed and ranked, this is called search engine optimization (SEO).
Create Content For Your Posts.
Head over to Posts » Add New in your WordPress admin area, where you will see a screen much as you saw earlier when adding pages.
You can add a post title and then add content in the visual post editor. You'll also notice some extra options in the sidebar like post formats, categories, and tags.
You can click on the save button to store your post as a draft or click on the publish button to make it visible on your site.
For more detailed instructions on how to utilize all these options on post and page edit screens, please see our guide on how to add a new post in WordPress.
Step 5. Customizing and Tweaking Your Website
There are a number of things you can do in your header (This is the image that will appear on every page and post. You could add your logo or add text. The widgets consist of search bars, category menus, and images to name a few. You should now have an idea of how you can customize your site and with a little patience, trial and error you will get there.
You should also have your navigation mapped out of all the pages that will be visible on every page and post page on your site. You could either have your home page show as your front page or have all your posts.
Let's start by setting up a static front page (also known as the homepage).
Setting up a Static Front Page
You need to visit the Settings » Reading page in your WordPress admin dashboard. Under the 'Front page displays' option click on the static front page and then select 'Pages' you created earlier for your home and blog pages.
Don't forget to click on the 'Save Changes button at the bottom of the page to store your changes.
WordPress will now use the page titled 'Home' (Although the title should match the name of your domain name and should be changed the sooner the better), your site's front page could also display your posts in order to this you will have to adjust the settings as in the image below.
Change Site Title and Tagline
During the installation, you get to choose your site's title. WordPress automatically adds a tagline to your site title that says 'Just another WordPress site'.
You can change both your site's title and tagline at any time by visiting the Settings » General page.
Your site title will be the name of your website like UK Domain Brokers. The tagline is usually a single line that describes your website.
You can also leave the tagline field blank if you want because WordPress SEO plugins like All in one SEO, Yoast SEO, and others will override it for better search engine optimization.
Remember to save the changes before exiting the settings.
Set up Comments Settings
WordPress comes with a built-in comment system allowing your users to leave comments on your posts. You can in your settings set the comments to be approved by the site administrator which is you before publishing. This will eliminate spammy comments.
(I still have not got my head around why some people go above and beyond to send you questionable comments and emails, have they nothing better to do with their miserable lives? do they not think karma will not pay them a visit?).
To deal with this annoyance, you'll need to enable comment moderation on your website, you should also install a stop spammers plugin and block countries from subscribing and leaving comments. You should also go one better and stop hackers from infiltrating your site (yes you will be surprised how many want to steal your domain name and your site. We use the 'WordFence' plugin for this.
Visit the Settings » Discussions page and scroll down to the 'Before a comment appears' section. Check the box next to the 'Comment must be manually approved' option.

Don't forget to click on the save changes button to store your settings.
Create Navigation Menus
Navigation menus allow your users to browse different pages or sections on your website. WordPress comes with a powerful navigation menu system, and your WordPress theme utilizes this system to display menus. Remember your menu will look different in mobile view to your desktop version. In the mobile view, you will have a drop-down menu and on a desktop, it will be horizontal or vertical.
Add a navigation menu to your blog.
You can do one of two things, you can create the pages first of all and then go to Appearance Section » Menus page, there you will be able to add your menu and pages and sort them out in the order you want them to appear.
Once you have selected the pages you want to display in your menu, click on add to menu button.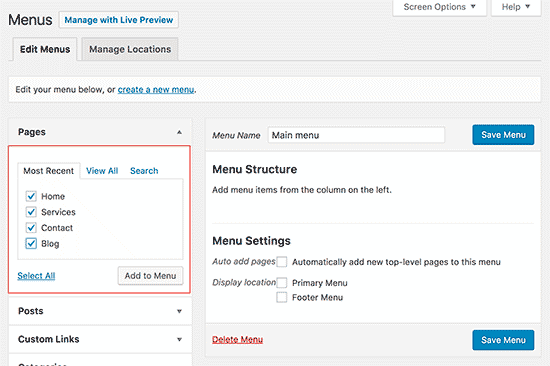 You will notice your selected pages filling the empty area of your navigation menu. You can move these menu items up and down to rearrange their position in the menu.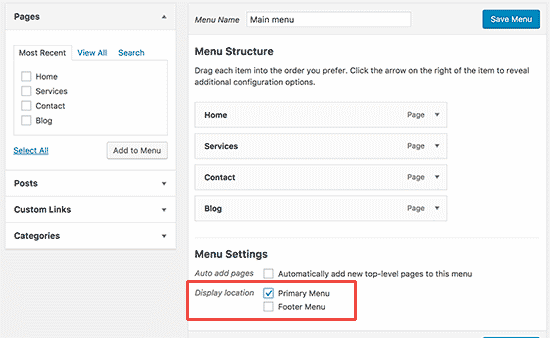 Now you need to select a display location. These locations are defined by your WordPress theme. Usually, most WordPress themes have a primary menu that appears in your website header at the top.
Finally, click on the save menu button to store your navigation menu.
You can now preview your website to see the menu live.
Step 6. Installing Plugins in WordPress
WordPress has a vast selection of plugins for various functions, This could cover SEO, Security, Cookie Banners, Google Analytics, Photo Galleries, etc. Plugins are like apps for your WordPress site. They allow you to add features and customizations to your WordPress site. You can install plugins from your WordPress dashboard by clicking on the Plugins page. There are currently more than free 59,000 plugins available for WordPress (do choose the ones with the most downloads). There are also paid plugin versions sold by third-party websites and developers, which give more functionality.
Step 7. Mastering WordPress
WordPress is easy to use, once you know how. It is also an extremely powerful content management system (CMS).
Using WordPress, you can create powerful niche websites capable of doing a lot more.
Add an eCommerce store
Add a directory
Make it into a social media platform, (give Facebook or Twitter a run for their money).
Create a discussion/forum
Start your own podcast
Create a membership site
Create a video channel (like YouTube)
Create a coupons website
Build a reviews website (like Trustpilot)
Create a site in different languages (multilingual websites)
Create a Real Estate site and sell or rent properties
Create a delivery service similar to Deliveroo or Just Eat
Create a job board website
Create a wiki knowledgebase website
Create an auction site (perhaps auction domain names, or a site like eBay)
Make your site the next business site like Forbes, Wall Street Journal (WSJ), or Huffington Post
If you liked this article, then please subscribe and get our (40 Things To Do List For Setting Up WordPress) PDF which will have a list of plugins to install, tried, and tested by us as well as an SEO Report for you to implement.
Contact Us For Information Using The Form Below:
Final Note From The Editor:
A website that is not on the first couple of pages on search engines should seriously think about having an SEO Link Wheel compromising one or two blogs. For example, we offer Marketing and someone may not necessarily visit UK Website Designers because of the keywords hence we have a subdomain that includes the keywords marketingagency.cymrumarketing.com If you are selling more than one service consider building a blog for each service you have.
On another note if you are a hobbyist or simply want to document your life in an online journal do not do the mistake I have seen, some friends write blog posts on social media walls (Facebook in imparticular), and Facebook posts are not to be used as blog posts (they can have a link to your blog post). They should ideally have an excerpt of the article giving the reader a teaser of the post itself. It pains me when I see this when the said people have not got a large network of followers but choose to write a book on the topic that is on their mind. This is where blogs play a crucial role to spread the news and grow your network.
Blogs can be used for all manner of reasons and posts can be shared on Social Media as I am going to do on LinkedIn. As you will see I will add an image for visualization and an expert of my article. I will also use the same hashtags that I have used on this page.
I have also experienced in the past people quitting because they think WordPress is difficult. WordPress at first glance may look complicated but if you follow the steps and reach out for our support you should be on your way to building a grand site. ** Remember to use hashtags on your site and in your settings.
Happy Blogging!
#blogs#blogdevelopment #wordpress #managedwordpress #selfmanagedwordpress #ukwebsitedesigners #contentwriting #seo